Jose Vergara
Assistant Professor of Russian on the Myra T. Cooley Lectureship in Russian Studies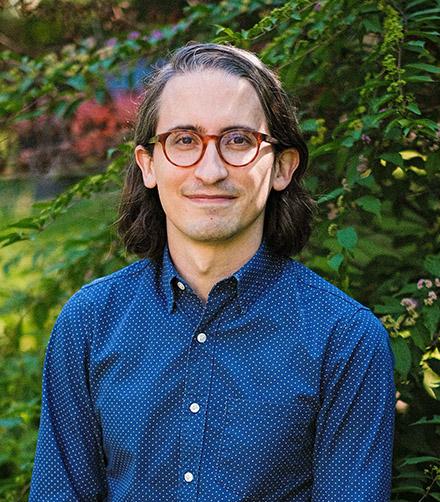 Contact
Location
Russian Center 6
Department/Subdepartment
Education
Ph.D., Slavic Languages and Literatures, University of Wisconsin-Madison
Areas of Focus
20th- and 21st-century Russian literature, contemporary Russian culture, prison writing, environmental humanities, digital humanities 
Biography
José Vergara is a scholar and teacher of Russian language and Russian literature of the long twentieth century. His book, All Future Plunges to the Past: James Joyce in Russian Literature (Cornell University Press, 2021), explores how Russian writers from the mid-1920s to the present day have read and creatively responded to Joyce's fiction. It illuminates how they have used Joyce's ideas as a critical lens to shape, prod, and constantly re-define their own place in literary history, and to extend the analysis to the present day, it features interviews with a range of contemporary authors and critics. 
José's current research project, inspired by recent teaching experiences, addresses the latest in Russian prison texts. It examines how the authors of these stories position themselves vis-à-vis their predecessors and challenge the tradition's form. He is interested in both narratives written by artists who have been jailed (as well as those who became writers because they were imprisoned) and those that turn their gaze further back, such as fictional accounts of Soviet prison labor camps. 
He is also developing a project on Chernobyl's international resonance, co-editing a volume of essays on teaching Nabokov to Generation Z, and collaborating on a bilingual digital annotated edition of Sasha Sokolov's dense novel, Between Dog and Wolf.
His teaching interests cover a wide variety of topics: Russian language, prison literature, Chernobyl, Russian Novel (of the classical and experimental varieties), and contemporary Russian culture and society. He has previously taught courses in prisons, including nearby OCI-Chester, and is a passionate advocate for the public and digital humanities.
His writing and interviews have also appeared in the Los Angeles Review of Books, Asymptote, Music & Literature, and Words without Borders. More information can be found on his website: www.josevergara.net.
When he can will free time into existence, José enjoys gardening, tending to his ducks (easier than expected), playing music, and spending time with his family.