Karen F. Greif
Professor Emeritus of Biology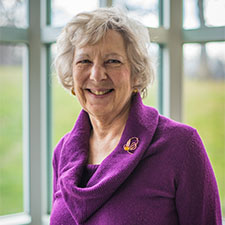 Department/Subdepartment
Education
A.B. in Human Biology, Brown University, 1973
Ph.D. in Psychobiology and Biochemistry, California Institute of Technology, 1978
Areas of Focus
Cellular neuroscience.
Biography
I study the novel roles of proteins involved in synaptic transmission during early neuron development in vitro, using embryonic chicken neurons as model systems. We are especially interested in understanding why these proteins are expressed in developing neurons significantly before synaptogenesis begins. My lab uses techniques in primary cell culture, immunocytochemistry and molecular biology to manipulate protein levels and monitor neuron development in vitro. We have demonstrated that levels of synaptotagmin 1 (syt1), the main calcium sensor at the synapse, influence axonal filopodia and branches, an important step in the development of connections between nerve cells. Our working hypothesis is that in response to local calcium signals, syt1 mediates addition of membrane to the cell surface to influence axon architecture and neuronal network development.
In addition to my research in cellular neurobiology, I also maintain an active interest in science policy issues. A book exploring the interactions between science and policy in the life sciences has been published by MIT Press.