Katie R. Krimmel
Associate Dean, Career & Civic Engagement Center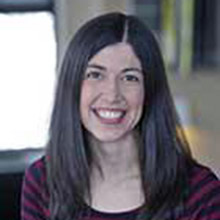 Contact
Location
Student Life & Wellness Bldg 160
Department/Subdepartment
Education
Ed.D., Higher Education Management, University of Pennsylvania.
Biography
Values/Strengths:

Positivity.  I look for the good in situations and try to focus on continuous learning and improvement.  I enjoy laughing and having fun!

Achiever.  I enjoy working hard, have high expectations, and like to reach goals and complete tasks.

Creativity.  I find great value in trying to look at problems from different angles, innovating, and discovering non-traditional solutions.

Contact with people.  I chose the work I do because I find people fascinating.  I love to talk to people, whether it be colleagues, students, alumnae/i or others, to celebrate successes, problem solve and generally work with others to help them achieve their goals.

Challenge.  I find value in work that is difficult.  Challenging work motivates me to keep learning.

My first job after college was: Executive Manager at Target

My jobs during college were:  serving as teaching assistant for a number of psychology courses, working in psychology labs, working as a career advisor in Career Development, and in the summers, bar tending and working at the snack bar on a golf course.

One thing I enjoy outside of work is: spending time with my family which includes my two daughters, Taylor (7) and Jocelyn (4), my husband Ken, and our pugs.

I am proud to work at Bryn Mawr because: I believe in the mission and I believe it is a community of individuals who are always trying to do better.

I have worked in higher education for over thirteen years.  I am the Associate Dean of the Career & Civic Engagement Center (The Center) at Bryn Mawr College, a position formed to integrate Civic Engagement and Career and Professional Development staffs and provide a comprehensive array of professional and personal development opportunities for all Bryn Mawr students.

I work closely with faculty, staff, students and alumnae/i to find ways for The Center to support curricular initiatives, create networking opportunities, and to create a wide variety of ways for students and alums to engage in Center events and activities.

Previously, I was the Senior Associate Director of the Wharton Leadership Program at the University of Pennsylvania, directing a Nonprofit Board Leadership Program. I also taught a variety of courses that involved fieldwork.

I started at Wharton in 2006 as an administrative coordinator in the Graduate Leadership Program, following three years at the Target Corporation, as an executive manager. While working at Penn, I obtained my Doctorate of Education in Higher Education Management at the University of Pennsylvania, where I also have a Master of Education degree.

As an undergraduate student at Penn State, I was a Schreyer Honors Scholar and a Psychology major with a focus on business.  Industrial/Organizational psychology is still something that drives the work I do today.