Leslie B. Alexander
The Mary Hale Chase Professor Emeritus in the Social Sciences and Social Work and Social Research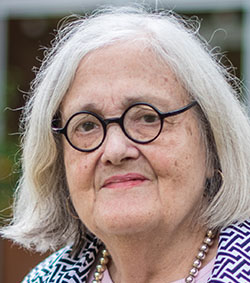 Department/Subdepartment
Education
M.S.S., Bryn Mawr College

Ph.D. Bryn Mawr College
Biography
Recently, Professor Alexander has taught research design in the MSS program and Qualitative Inquiry: Methods in the PhD program. She has also been Chair of the College's IRB since 1996. She has been an Adjunct Professor of Social Work in Psychiatry  at the School of Medicine at the University of Pennsylvania for over 15 years and has been PI on two NIH Grants since the mid-1990s. She has been a Co-Investigator on a NIDA grant with Dr. Celia Fisher of Fordham University and continues to serve as a Member of A Multidisciplinary Advisory Board for an NIDA-funded training grant to prepare young scholars to perform ethics research in the area of HIV, also under Professor Fisher. She continues to serve as a reviewer for several journals, both in social work and related fields and is a Contributing Editor for the Journal of Empirical Research on Human Research Ethics. She has just completed a term as Convener of the GSSWSR Faculty.  
Research and Scholarly Interests:  Working Alliance in community settings, Implementation of evidence-based practices in community settings, Research on issues in research ethics.
Substantive Specialization: Research methods with a focus on qualitative approaches.