Monique Renee Scott
Associate Professor of History of Art and Director of Museum Studies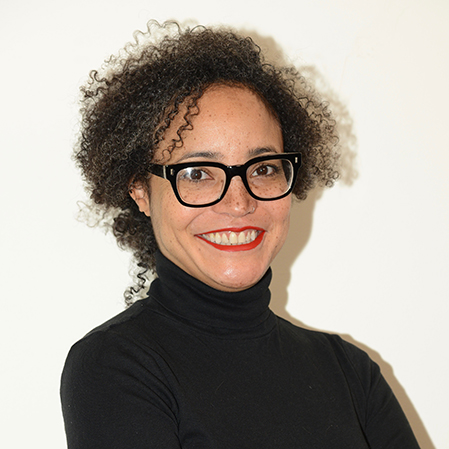 Contact
Location
Old Library Old Library 132
Department/Subdepartment
Areas of Focus
Visual studies, race, museums, representations of Africa.
Biography
Monique is an anthropologist with a career as both a scholar of museums and as a museum professional working within museums. After Monique Scott received her PhD in Anthropology from Yale University in 2004, she worked for more than ten years as head of cultural education at the American Museum of Natural History.
Monique specializes in how diverse museum visitors make meaning of race and culture in museums, particularly representations of Africa and people of African descent, the basis for her 2007 book Rethinking Evolution in the Museum: Envisioning African Origins. Her recent research focuses on the representation of Africa in Philadelphia museums, exploring the dense tension between African objects collected as art or artifact in some of the country's oldest museums.
At Bryn Mawr College, Monique teaches on visual studies, Africana studies and museum anthropology; and uses Bryn Mawr's robust collection of African objects to teach and curate campus exhibitions. Monique Scott is currently on the curatorial team responsible for the renovation of the Penn Museum African galleries; and in 2019, Monique co-curated the temporary exhibition at the Penn Institute of Contemporary Art "Colored People Time: Quotidian Pasts." Monique is also a Consulting Scholar for the Africa Section at the Penn Museum, a Research Associate in Anthropology at the American Museum of Natural History and is on the African-American Collections Committee at the Philadelphia Museum of Art.
---
Museums Matter in the Current Climate of Anti-Black Racism
In a March 2019 piece for Anthropology News, the magazine of the American Anthropological Association, Monique Scott writes: "Museum representations of Africa and anthropological representations of Black bodies matter, because Black lives matter. As long as Blackness is devalued and naturalized—whether in museums, in popular cultural, or on the streets of our cities, I have to think about where those ideas come from."
Colored People Time: Quotidian Pasts
This exhibit, on display from April 26 to Aug. 11, 2019, at the Institute of Contemporary Art at the University of Pennsylvania, is co-curated by Monique Scott and Meg Onli, ICA Assistant Curator. Quotidian Pasts, the second chapter in the three-part exhibition series Colored People Time, reconsiders the trafficking of blackness through the colonial practices of collecting, commodifying, and exhibiting people and objects from the African continent.
Video: Exhibiting the African Imaginary
Monique Scott | TEDxBrynMawrCollege
This presentation explores the multiple facets of the African imaginary and the way it has affected black lives in the United States.
American Anthropology Podcast: Anthropological Airwaves
Episode 4 features interviews with Monique Scott and Salam Al Kuntar about museums and how they engage with different publics through their exhibitions and programming.