Rudy Le Menthéour
Associate Professor and Chair of French and Francophone Studies
Fall 2021 Undergraduate Advisor for Classes of 2022, 2023, and 2024; Spring 2022 Undergraduate Advisor for Classes 2023 and 2025; Acting Graduate Advisor Fall 2021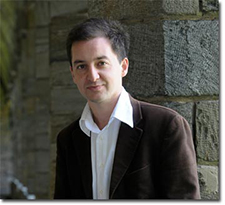 Department/Subdepartment
Education
Ph.D. Université de Grenoble
Areas of Focus
French Enlightenment (literature and philosophy), medical humanities
Biography
Rudy Le Menthéour has studied the polemics of Rousseau and the main philosophers of the French Enlightenment. His work also focuses on the rise of hygiene and medical anthropology in the Eighteenth Century. He is the author of La Manufacture de maladies: la dissidence hygiénique de Jean-Jacques Rousseau (Paris: 2012) and the editor of an anthology on Seventeenth Century French Literature (2003). He is a former student of the Ecole Normale Supérieure and has taught both in France and in the United States.
Select Publications
"Le paradis à portée de lance: variations autour du modèle spartiate à l'âge des Lumières,"MLN, vol. 133, no. 4, forthcoming

"Restaurer l'âme antique: Rousseau, Mably et le mirage polonais," Dix-huitième siècle, no. 50, 2018: 449-469

"Solo nel suo regno. Il godimento sovrano secondo Rousseau Crusoe," in Sognare la politica. Rousseau e la filosofia del "promeneur solitaire," eds. M. Menin and L. Rustighi, Bologna, Il Mulino, ch. 8, 2017: 201-221

"De la moisson humaine: botanique et perfectibilité dans les Lumières médicales," TrOPICS, no. 1, Dec. 2013, http://tropics.univ-reunion.fr/accueil/numero-1/rudy-le-mentheour/

"Melancholy vaporised: self-narration and counter-diagnosis in Rousseau's work," in Medicine and Narration in the 18th Century, ed. Sophie Vasset, Oxford, SVEC (2013:04): 107-123

"The Tarantula, the Physician and Rousseau: the Eighteenth-Century Etiology of an Italian Sting," Proceedings of the Western Society for French History, vol. 37 (2009), http://hdl.handle.net/2027/spo.0642292.0037.003
Courses Taught
FREN/HIST 275 Improving Mankind
An in-depth study of 'enlightened hygiene' and proto-eugenics in early modern France.    
 
FREN 204 Le Siècle des Lumières
An introduction to French Enlightenment, with texts by Montesquieu, Voltaire, Rousseau, Diderot, among others
 
FREN 306 Libertinage et Subversion
A study of Eighteenth-Century Libertinage through novels by Prévost, Crébillon, Laclos, Sade, etc.  
  
FREN 325 Lumières et Médecine
A study of the medical aspects of Enlightenment, with a close reading of both fiction and non-fiction.