Sylvia W. Houghteling
Assistant Professor of History of Art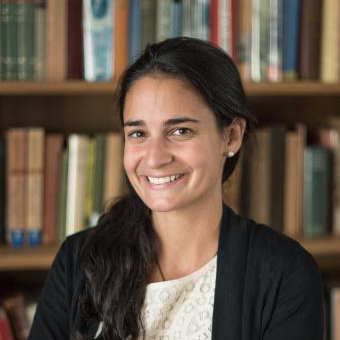 Department/Subdepartment
Areas of Focus
Early Modern Art | South Asian Art | Decorative Arts and Material Culture
Biography
Sylvia Houghteling specializes in early modern visual and material culture with a focus on the history of textiles, South Asian art and architecture, and the material legacies and ruptures of European colonialism.
Houghteling's first book, The Art of Cloth in Mughal India (Princeton University Press, 2022), a recipient of a College Art Association Millard Meiss Publication Fund Grant, examined the textiles crafted and collected across the Mughal Empire in the sixteenth and seventeenth centuries, showing how woven objects helped to shape the social, political, religious, and aesthetic life of early modern South Asia. Her ongoing research is concerned with questions of temporality and the unique material histories of the Indian Ocean trade.
Houghteling received her Ph.D. in the history of art from Yale University in 2015. She holds an A.B. in history and literature from Harvard University (2006), and an M.Phil. in history from the University of Cambridge (2007). Her research has been supported by the Metropolitan Museum of Art, the American Council of Learned Societies, the German Research Foundation (DFG), the Fulbright program, the Huntington Library, the Calouste Gulbenkian Museum, the Paul Mellon Centre for Studies in British Art, and the Beinecke Scholarship Program. 
Before entering the field of art history, Houghteling gained experience in weaving, textile dyeing, fashion design, felting, block-printing, and silk-painting. As someone who became interested in art through making it, Houghteling teaches and learns through conversations with contemporary practitioners and hands-on encounters with objects.
Teaching Interests
Sylvia Houghteling teaches undergraduate and graduate-level courses that engage with the intercultural connections and conditions of exploitation forged by art objects in the early modern period; theories of ornament; the history of the textile medium; and the visual arts and material culture of South Asia.    
Selected Publications
*If it is not possible for you to access any of these publications in your library or online, please contact Sylvia Houghteling directly at shoughteli@brynmawr.edu.
The Art of Cloth in Mughal India

(Princeton: Princeton University Press, 2022). Recipient of the College Art Association Millard Meiss Publication Fund Grant

"Tapestry as Tainted Medium: Charles V's Conquest of Tunis" in Purity and Contamination in Early Modern Art and Architecture, eds. Lauren Jacobi and Daniel Zolli (Amsterdam: Amsterdam University Press, 2021): 183-205.
"Figurative Textiles," in Indian Textiles: 1,000 Years of Art and Design, ed. Rosemary Crill. (Washington, D.C.: George Washington University Museum and The Textile Museum of Washington, D.C., 2021), 274-285.
"Dyeing the Springtime: The Art and Poetry of Fleeting Textile Colors in Medieval and Early Modern South Asia" Religions 11 (2020): 1-20.
"Origins in Entanglement: Connections Between English Crewel Embroidery and Indian Chintz" in Cloth that Changed the World: The Coloured Cottons of India, ed. Sarah Fee (New Haven: Yale University Press, 2020): 182-191.
"'From Scorching Spain and Freezing Muscovy': English Embroidery and Early Modern Mediterranean Trade," in The Mobility of People and Things in the Early Modern Mediterranean: The Art of Travel, ed. Elisabeth A. Fraser (London: Routledge, 2020): 9-26.
Co-authored with Nobuko Shibayama, "Tools of the Master Dyer: Dye Materials in 17th and 18th Century South Asian Painted Cotton Textiles at the Metropolitan Museum of Art," The Textile Museum Journal 46 (2019): 10-25. 
"Chintz in Seventeenth- and Eighteenth-Century Europe: Appliqué and the Bizarre" in Traded Treasures: Indian Textiles for Global Markets, ed. Ellen Avril (Ithaca: Johnson Museum of Art at Cornell University, 2019): 32-38.
"The Tree of Life and the World of Wonder: 'Ajā'ib Imagery on Seventeenth-Century Kalamkari" in Scent upon a Southern Breeze: The Synaesthetic Arts of the Deccan, ed. Kavita Singh (Mumbai: Marg Publications, 2018): 88-107.
"The Emperor's Humbler Clothes: Textures of Courtly Dress in Seventeenth-Century South Asia," Ars Orientalis 47 (2017): 91-116.
"Sentiment in Silk: Safavid Figural Textiles in Mughal Courtly Culture" in Affect, Emotion, and Subjectivity in the Art and Architecture of Early Modern Muslim Empires, ed. Kishwar Rizvi (Leiden: Brill, 2017): 124-147.
"Kalamkari: The Richness of its Traditions," ArtVarta, ed. Jasleen Dhamija (Summer, 2016): 130-135.
"From Foot-cloth to Petticoat: The British Uses of Indian Chintz ca. 1700" in Setting the Scene: European Painted Cloths 1400 – 2000, ed. Christina Young and Nicola Costaras (London: Archetype Books, 2013): 51-57.
---
Click here to view a YouTube video: "Conversation: Where the Wind Blows: Histories of Textiles and Colours in the Works of Lavanya Mani"