Astrid Lindenlauf
Associate Professor and Chair of Classical and Near Eastern Archaeology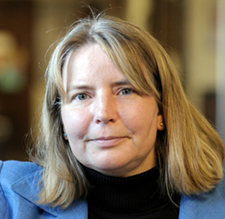 Contact
Office Hours
Thursdays 1-2 p.m., Fridays 10-Noon, and by appointment.
Department/Subdepartment
Education
Ph.D., University College, London
Areas of Focus
Classical art and archaeology, practices of disposal and recycling, fortifications and urban development; intellectual history of archaeology
Biography
In my research I aim to challenge the entrenched oppositions between archaeology, philology, history and sociology, following the tradition of material culture studies. I have investigated patterns of disposal and recycling in ancient Greece, biographies of artefacts and other key issues in the field of Classical Art and Archaeology, including questions of absolute chronology. Currently I explore the urban development of ancient Athens by studying the successive walls from the Mycenaean period to the 18th century A.D. Apart from published data this project uses my new documentation of the city-walls in the Kerameikos of Athens. I am also interested in the use and perception of Athenian vases. My teaching repertory at Bryn Mawr College includes courses at both undergraduate and graduate level. I offer courses on Greek Vase Painting, the Villa dei Papiri, on Ancient Landscapes, and on the Archaeology of Rubbish and Recycling.