Mary J. Osirim
Professor Emeritus of Sociology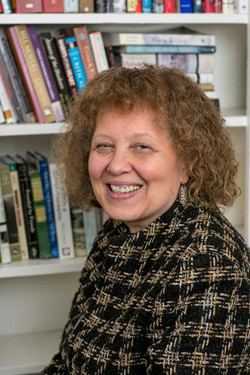 Department/Subdepartment
Education
Ph.D., Harvard University.
M.Sc., London School of Economics and Political Science.
A.B., Harvard-Radcliffe.
Areas of Focus
Gender and development; economic sociology; immigration; race; ethnic relations; sociology of gender and the family
Biography
Mary Johnson Osirim is Professor of Sociology, Co-Director of the Center for International Studies and Faculty Diversity Liaison. Her teaching and research interests have focused on gender and development, race and ethnic relations, immigration, the family and economic sociology in Sub-Saharan Africa, the English-Speaking Caribbean and the U.S. 
During the past 20 years, she has conducted fieldwork on women, entrepreneurship and the roles of the state and non-governmental organizations in the microenterprise sectors of Nigeria and Zimbabwe in which Bryn Mawr students participated as research assistants. She has many publications in these areas in such journals as International Sociology, Gender and Society and Women's Studies International Forum and in a co-edited special edition of African and Asian Studies. Her book in this field, Enterprising Women: Gender, Microbusiness and Globalization in Urban Zimbabwe: Gender, Microbusiness and Globalization was published by Woodrow Wilson Center Press and Indiana University Press in 2009. Currently, her research is focused on transnationalism and community development among African immigrants in the northeastern U.S. Her recent book (2010) is entitled Global Philadelphia: Immigrant Communities, Old and New, co-edited with Ayumi Takenaka.
She has received several awards and fellowships including grants from The National Science Foundation, a Pew Faculty Fellowship in International Affairs, a Carter G. Woodson Fellowship at the University of Virginia and a fellowship at the Woodrow Wilson International Center for Scholars. She was also a Minority Scholar-in-Residence in Women's Studies and Sociology at Illinois State University. Recently, she has been elected as a Commissioner for the Middle States Commission on Higher Education.