Qinna Shen
Associate Professor and Chair of German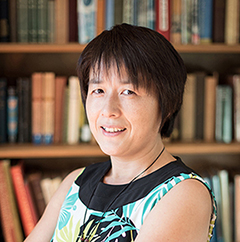 Department/Subdepartment
Education
Ph.D. Yale University
Areas of Focus
German Studies (20th and 21st century), Film and Visual Studies, and Sino-German Relations
Biography
Qinna Shen is Associate Professor of German at Bryn Mawr College. Her research focuses on twentieth- and twenty-first century German culture, with an emphasis on visual studies and Asian German Studies. She has published numerous articles in peer-reviewed journals and edited volumes. Her book, entitled The Politics of Magic: DEFA Fairy-Tale Films, was published in 2015 by Wayne State University Press. It is the first comprehensive, critical, and book-length treatment of the live-action fairy-tale films from the former East Germany. Her co-edited volume Beyond Alterity: German Encounters with Modern East Asia appeared in the series Spektrum: Publications of the German Studies Association in 2014 with Berghahn Press. Her book project Film and Cold War Diplomacy: China and the Two Germanys, 1949–1989 is under contract with Routledge. She is currently writing a monograph Jiny Lan and the Art of Subversion: Chinese-German Culture and Politics through a Feminist Lens. Her cross-disciplinary article "A Refugee Scholar from Nazi Germany: Emmy Noether and Bryn Mawr College" reached the circles of mathematicians and physicists and helped revive the memory of the greatest woman mathematician of the twentieth century.
Before joining the Bryn Mawr faculty in 2016, she held Visiting Assistant Professor positions at Miami University in Ohio and at Loyola University Maryland. At Bryn Mawr, she teaches all levels of German language, literature, and culture courses. She has designed a number of new topical courses, including "Representing Diversity in German Cinema," "Berlin in German Literature and Film," "Crime, Justice and the Courtroom," "1968 and Its Legacies," "German Encounters with East Asia," "Censorship in Germany and China," "Literature for Children and Young Adults," and "Funny Germans: Humor and Satire from the Enlightenment to the Present." Most of her courses are taught entirely in German.
In terms of service for the profession, she is a member of the German Studies Review editorial board and is chairing the German Studies Association (GSA) Seminar Committee. In 2021, she also chaired the DAAD/GSA Article Prize Committee and served on the GSA Seminar Committee and Program Committee. She has organized numerous panels, seminars, and workshops on Asian German Studies. Together with Qingyang Freya Zhou and Zach Ramon Fitzpatrick, she compiled "Asian German Filmography: A Teaching Guide."  With Zach and Freya, she is also co-editing New Narratives of Asian German Film History: Imagination, Collaboration, and Diasporic Representation under consideration by Camden House for their series Screen Culture: German Film and the Visual. She is also a member of CineGraph Babelsberg in Berlin and contributes regularly to their journal Filmblatt.