Vanessa Petroj
Director, Multilingual Writing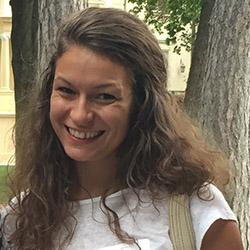 Contact
Location
English House 207
Department/Subdepartment
Education
B.A., University of Novi Sad, Serbia
M.A., Ph.D., University of Connecticut
Areas of Focus
Rhetoric and composition, spoken and written multilingualism, linguistics, code-switching, contrastive grammar, reading comprehension.
Biography
Vanessa's personal and professional background informs her work on contrastive linguistics and rhetoric and composition, specifically academic writing and reading comprehension, with the focus on multilingualism and multilingual students who are international students and/or non-native speakers of English. She has published and presented work at linguistics, writing center, and TESOL conferences and she has led and collaborated on numerous student and faculty workshops.
Vanessa was born and spent most of her early adult life in Serbia. When she is not working, she likes to go running, hiking, or simply spend time outside in the nature with her family and friends. She also enjoys listening to music, traveling, and playing table tennis.
Role at Bryn Mawr College
Vanessa teaches WR 120 (Workshop for Multilingual Writers), tutors in the Writing Center, and supports students, tutors, staff, and faculty through conversations, workshops, and professional development on matters related to multilingual writing. Vanessa is always available and happy to meet with students, faculty, staff, and members of the community. If you would like to talk about multilingual student support, email Vanessa to make an appointment.